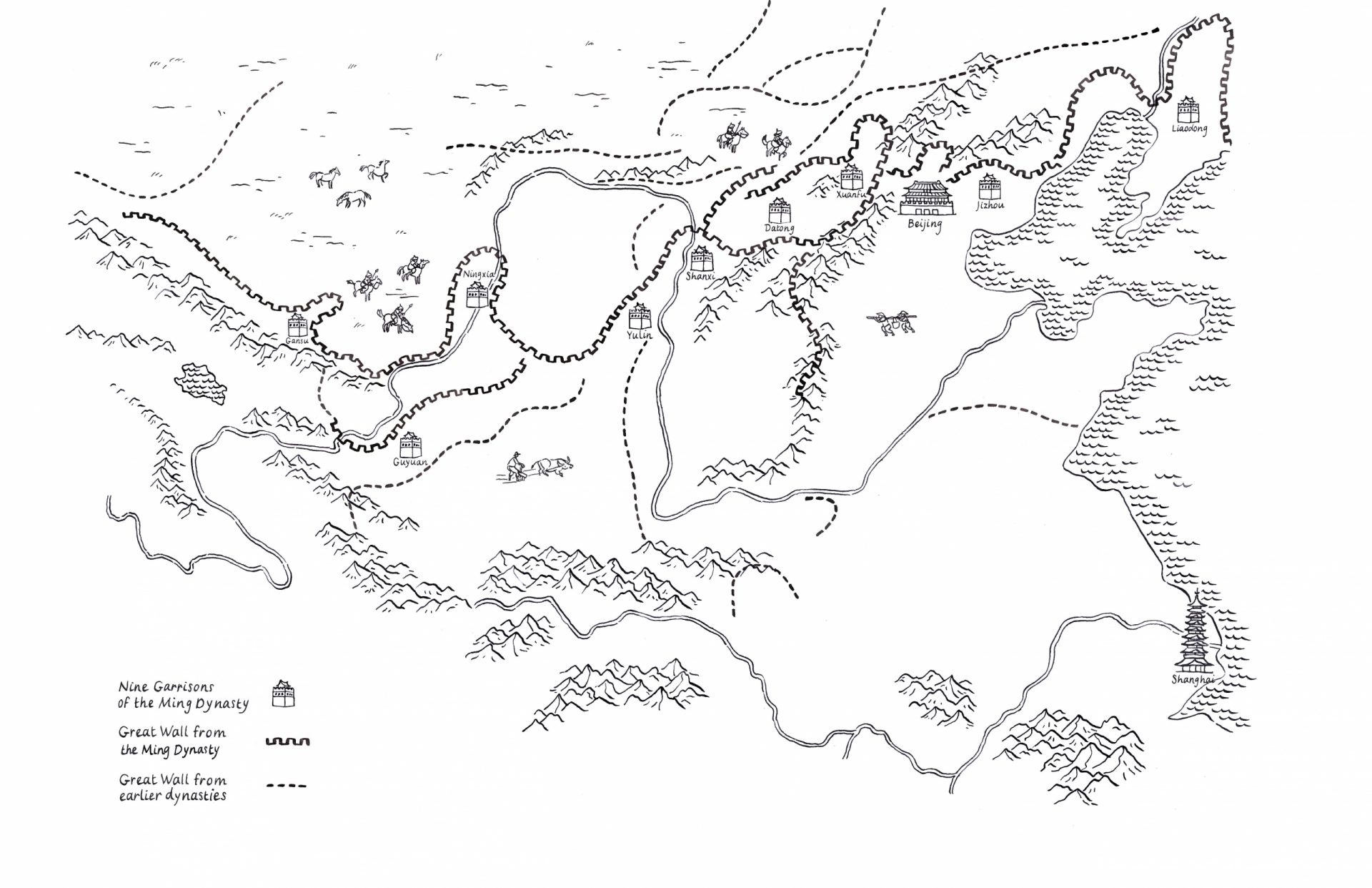 Watering my Horse by a Spring at the Foot of the Long Wall
THE TRADITIONAL FOLK TALE OF THE GREAT WALL 14
The Apricot Grove of the Great Wall
Every spring, near Erdaoliang to the east of the Chengziyu village, flowers bloom all over the mountain, just like the ocean, which attracts numerous visitors and inspires so many masterpieces by great photographers. There are several features that stand out in the flowers here. First, the ancient Great Wall creates a natural divide in the ocean of flowers. To the north of the Great Wall, azaleas are as red as flame, seeming to set fire to the mountain. When the spring breeze comes, green waves ripple across the mountainside view in layers. The magnificent towers of the Great Wall are like ships navigating the flower ocean, as if you were living in a poem or a painting. And the scenery to the south of the Great Wall? It is totally different, like a snowfield with immense forests. This expanse of white blossoms looks like thousands of girls in white scarves dancing and twirling. A faint fragrance of flowers attracts various butterflies, bees and birds. So why does such extraordinary scenery exist on both sides of the Great Wall? The tale is told in a story from the Yiwu garrison in the Ming Dynasty…
THE TRADITIONAL FOLK TALE OF THE GREAT WALL 26
New Year's Bobo
In the villages alongside the Great Wall, there is a kind of traditional Chinese food which is still popular now: New Year's bobo, a kind of steamed bun. Since it is made of glutinous rice mixed with flour, it is also called sticky bobo'. (Sticky and year have the same pronunciation in Chinese.) This food is made according to a special process.
First, grind the husked kernels of corn into grits, and then soak them into water for six or seven days. This step is called paobaomishen (soaking grits). When it
is done, rinse them with warm water and then pick out the grits. This step is called laomi (fishing out the grains). Then write the date of the lunar month on red or green paper and stick it on the wood frame of a stone roller. This step is called zhannianzi (taking up the roller). It means you should grind the kernels on the day you write down the date. At the Lunar New Year, every twelve lunar months, you can see a lot of red and green stickers on the frames of rollers, a special and beautiful sight featuring traditional folk customs…
The funeral symbolizes the final destination in life for everyone.The rite is very impor– tant to many people, including villagers in Chengziyu region along the Great Wall.
When an old man passes away, his sons and/or daughters wear mourning attire (traditionally in white) and kneel down in front of other villagers' doors to ask for help.They keep the body of the deceased in the home and invite a musical ensemble to call back the spirit of the dead. After the viewing, once all the relatives and friends have seen the remains, the body is put in a coffin and the offerings are arranged around it. If the person who passed away was a very old man, it is called laoxisang (funeral of an old man with happiness).This means that the old man is going to a place without having experienced misery in the human world, so the funeral should be held as a happy event; in that case, mourners may wear pink instead of white. Dancers are always invited to dance the yangko(a popular Chinese rural folk dance) and place offerings on the table especially for the deceased, in front of the coffin. When each offering is presented, the mourning sons and daughters of the deceased kneel down and use both hands to make
a gesture, indicating they are receiving these offerings. When all the offerings
are placed properly, the mourners kowtow in front of the coffin for the last farewell…